Topic: Technology, Travel|
No Comments »
So, Nikon has descended into the valley of suck. Sorry, I am going to rant for a bit, and then I'll get back to the trip. We are driving around Mesa Verde, trying to get to the spectacular "Sun Temple", stopping every 5 seconds to take more pictures of cliff dwellings, and my camera batteries die in the middle of a shot. Which is fine, since I subscribe to the "digital cameras should take AAs" school of thought, and I have a bunch of rechargables. So I pull two out from my case and pop them in. My Nikon happily starts up, and makes a wonderful musical startup noise. Which I had turned off last year when I bought the camera. And now comes the great part: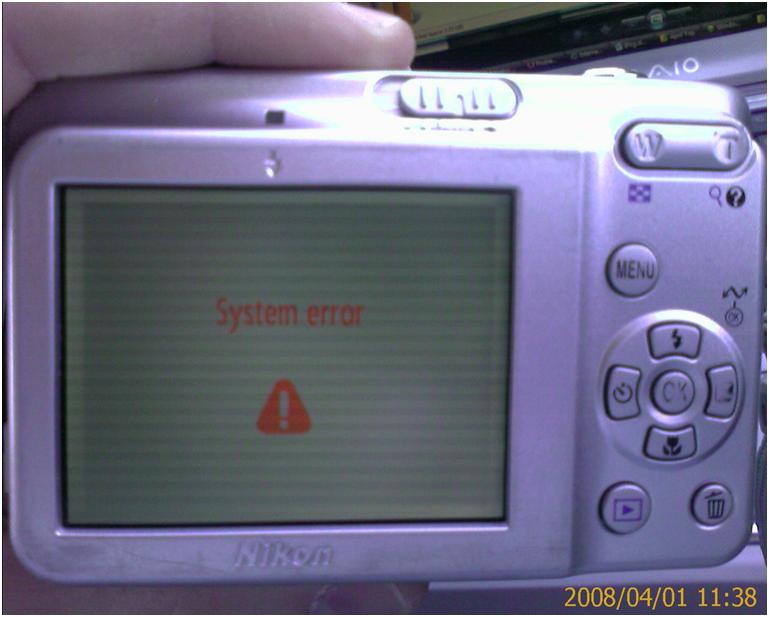 In the middle of a shot. Every time I turn on the camera (which was about fifteen times). And now my camera is hosed. Hosed because I don't have INTERNET ACCESS or the MANUAL to look up what the aptly-named "system error" means.
Update:
It looks like this error does exist. The manual says that this helpful error means that the internal electronics of the camera are malfunctioning. The remedy is to take out the batteries and replace them with a fresh set…and if that doesn't work, take the camera to your Nikon dealer. I'm assuming that a new system board for my camera, plus repairs, would come the about $200 more than the camera is worth. So, since this is the third set of batteries I've tried, I can safely assume that I might as well chuck my camera off a cliff. Which I will be seeing many of in the next few days. It will be tempting.