Topic: England|
3 Comments »
Dear Readers,
First of all, thank you for your kind words of appreciation.  I am thrilled and truly touched  that my badly-spelled ramblings have provided you with moments of entertainment.
David and I had a wonderful Sunday. We started off by being fashionably late for Church. After Church I finished putting away my Costco loot while David spent 2 hours trying to help his latest pet–a carnivore plant–catch a fly . Unfortunately the plant simply was not hungry. It totally ignored ten flies that descended on it baited by a piece of chicken with jam that David set up. David's other activity was killing wasps that decided to nest right above our back yard door. Currently we have 20 wasp carcasses on our patio and the number is growing. I am forbidden to clean up this Armageddon because David keeps on going and admiring his Terminator handy work while laughing like an evil clown. Oh, we also went on a bike ride. David borrowed a bike from our landlord/neighbor. There is a path right in front of our house that goes pretty much all the way to the southern coast of England. We had a great time though I tried David's patience quite a bit. While he wanted to race, I was riding at such a pace that I was passed by several pedestrians.

I simply could not get enough of all the fields and meadows around us, herds of cows, bunnies and of course my wicker basket.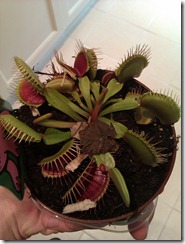 The story of the dryer
The average population density per square mile in urban areas in the United states is 2,900 compared with 7,900 in Europe. This predicament is tackled by two diabolical strategies—deceptive language and removal of key household appliances. Let me explain…
The sizing scheme. While Americans sleep on "queen" size beds, the English sleep on "king" sized beds. Of course, the dimensions are the same but the English fall asleep feeling utterly superior.  And US "king" is disguised as "super king" in the UK. Super king? You would think the British of all people would get royal titles correctly. Who is a super king? Unless we are talking hamburgers. My suspicion is that it is a secret snub at its former renegade colony and reassurance of British superiority. There might be a good conspiracy theory but one that I could hardly resolve without Glenn Beck. .
While misleading language is perfect for those of us who subscribe to denial, sometimes more practical and drastic measures need to be taken to tackle the lack of space. Shockingly, the appliance to draw the short end of the stick among critical apartment furnishings is the dryer. Yes, it is extremely unusual for a European to own a dryer. There is an alien offspring that is both a washer and a dryer but those are not very common. So, you ask what does a European do with his/her wet laundry?
Well, first option is to dry it on yourself which I don't recommend because it always takes longer than you think and all the wetness makes you go to the bathroom way too often.
Another option is to hang your laundry on the central heating radiators. Central heating has been raised to an art form in Europe. For example, for bathrooms they offer central heating that doubles as a towel rack. That way when you turn on your central heating, you are welcomed by nice hot towels upon getting out of the shower. Our cottage also has this wondrous invention and I must admit that it is "like totally awesome." Imagining my future without it makes me feel very cold (naturally) but, worse, utterly unpampered.
The final option is that of a clothes line that straddles a balcony or a yard. This is obviously the most "green" option and since I love Mother Earth, this is the option we embraced.
Warning: A story spoiler. Yes, this green option proves to be the most complicated and expensive one.
We orderly hang our whites on the line to let them bask  in the sun and drove off in our OPEC-friendly car to work. After a hard day at work, we were welcome by our whites in a pile on the ground covered in gravel because this glorious summer day brought with it 3 showers and one proper rainstorm. Huh. Next morning, as a good English housewife I checked the forecast before I even thought about doing my laundry. A glorious summer day it was to be. After hard days work, I came home again to completely wet laundry. Apparently, "we were surprisingly treated to some rain from the north". Liars.
In short, I just finished washing our whites for the third third time. The radiators are turned to 85F, David is running around half-naked ,  and I am drying my socks on my feet. Huh…gotta go pee.
Love you all.
Sandy
PS: I successfully spent GBP 389.20 ($ 600)  in 1 hr 22 minutes at Costco. And yes, you can buy happiness—it costs GBP 389.20.