Topic: England, Travel|
No Comments »
Dear Readers,
Except when I am in Banana Republic (where I simply want everything), I tend to suffer severely from not knowing what I want. You might recall that about a week ago I was yearning for peace and sense of normalcy with every fiber of my being…however, here I am excitedly writing about yet another wild travel adventure.
We took Friday off and by 6 am were already zipping towards Torquay–the main resort of the "English Riviera". Torquay, I am told, has a micro-climate which makes it warmer than the rest of the country. Right…when we got there it was cold and raining. I subscribe to denial religiously, but the way the British deceive themselves about the weather is quite concerning–even to me. The funny thing is that we did not mind the weather at all because Torquay is so quaint, you just want to pinch it–a harbor filled with sailboats and shops filled with tourists. There was a sailboat race while we were there and now David will never be happy again until he owns a small sailboat.
The best part of Torquay is Cockington–a village stuck in a time warp. Actually, it is like exactly like The Shire from Lord of the Rings. I honestly was expecting Frodo and Gandalf to pop out from round the corner any second. I kept on turning my wedding ring but nothing happened…except I think I now want a diamond band to go with it.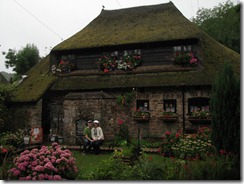 On our way to Plymouth we drove through the Dartmoor National Park which is miles and miles of bog and peat covered rolling hills. The fog got so thick you could slice it and serve it with jam. We stopped several times but did not venture out into the unknown. I am personally convinced that the Story of Sherlock Holmes and the Hound of the Baskervilles is true and the hound relocated to the Dartmoor bog. It was a very eerie place!




Eden Project…features the world's biggest greenhouse on a site of a former clay pit. Because of its size, it is not made of glass but hexagonal plastic film panels. It really is a modern marvel! The whole structure is self supporting–there are no columns to cloud your view. Google it. The mission of the Eden Project is to educate the unwashed masses about how to be one with Mother Earth…in other words, it wants to guilt-trip you for breathing and producing CO2. That aside;  the plants, the design, the activities are awe-inspiring and I really felt edified. My bliss surged further when I saw that the gift shop was offering samples of "apple cider". I love apple cider. I grabbed the little shot glass and took a nice big gulp…and that is the story of my first binge. Yes, dear Readers, this apple cider was spiked and I had to make it all the way to Eden to freakin' start boozing. Mama Mia! How come there were no signs that the apple cider was alcoholic, you ask? This is Europe, baby! Anything goes. I spend the entire time I stand in the grocery store line staring at ladies with boobies big enough to feed a band of hungry gorilla babies. If you learn about anatomy in a grocery store, you can learn about booze in a botanical garden. Anyway, the moral of the story is…be strong…for now…you can get sloshed when you get to Eden.
With his wife on the dark side, David turned to his ancestors for a sign of hope. Originally, the Mayflower Pilgrims set  out from Southampton when their ship was damaged during a storm, causing them to stop in Plymouth for repair. While in Plymouth, we were able to see the restaurant the pilgrims ate their last meal before setting out to sea and stand on the very steps on which they bid their goodbye to the motherland. That was really special. It is amazing to get to be at the same spot someone down the family tree stood centuries ago.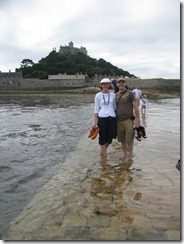 Now to a dream nearly fulfilled…it has always been my dream to visit St. Michelle in Normandy. I have not been able to do that yet but am planning on it for sure. In the meantime, we were able to visit its twin–St. Michael–in Cornwall. These rocky islands are about a half a mile away from the coast and are connected to the mainland by a natural land bridge that gets revealed during low tide. So, we were able to cross on dry land and then on our way back took off our shoes and waded through the water. It was SO awesome. The castle offered some stunning views of the water and the village on the coast but the crossing to and from was the highlight for me.
Near St. Michelle, we briefly visited Penzance because David once played a pirate hunk in BYU's production of Pirates of Penzance.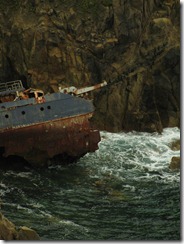 Finally…Land's End–the most westerly point of mainland England–a place of rugged cliffs, fierce winds, crashing waves, and ship wreck. We went on a walk along the edge of the cliffs and I must admit that it was one of the most magical moments of my life. I felt I could stay there forever and still never soak it all in. I was so overwhelmed and so happy.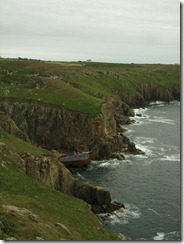 Love you all.
Sandy