Topic: Uncategorized|
No Comments »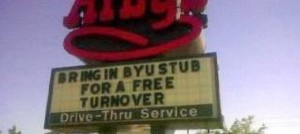 PROVO — Ouch! Talk about salt in the wound.
An Arby's sign in Provo couldn't have nailed BYU's performance Saturday in LaVell Edwards Stadium versus its bitter rival any better than this.
"Bring in BYU stub for a free turnover," the sign reads.
BYU fans got their fair share of turnovers during the game as the Cougars handed the ball over to the Utes a whopping seven times in the 54-10 drubbing.
Coincidence? Yes.
Prophetic? Absolutely.
Depressing? I don't want to talk about it.
But hopefully most BYU fans can simply laugh about it.
If not, eat a scrumptious Arby's turnover- it'll at least hide that bitter taste in your mouth, even if only temporarily.